27 November 2012
Seeking a Friend for the End of the World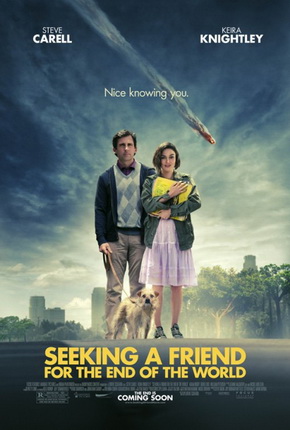 Genre: Drama/Romance/Sci-Fi. Year: 2012. Studio: Mandate Pictures & Indian Paintbrush. Country: U.S.A.
This movie tries to construct a doomsday tale with an honest, direct and at times humorous tone. It predicts the behaviours of people (not explicitly referred to Americans) in a totally changed world - some would begin living drastically or violently while some continue to live normally and peacefully.

It stars two American actors - Steve Carell and Martin Sheen, and a British actress - Keira Knightley. Steve Carell first received recognition in a 2005 comedy "The 40 Year-old Virgin" and gained fame in the popular TV series "The Office" (2005 - present). Here, he plays Dodge, a middle-aged insurance salesman living an average dull but secure life to be caught in an earth shaking event. His talents of making dry humour are employed to embed some lovable character into a very common personality. Keira Knightley known for her roles in Period-Drama movies ("The Duchess", "Atonement", "Silk", ...) plays a young English girl living upstairs in the apartment. Her lively performance adds a sharp contrast between the two personalities in a to-be-developed romance. In the last part of the movie, the well-known veteran Martin Sheen plays Dodge's father, bringing more fabrics to the plot.


Outline
The story starts with Dodge and his wife Linda sitting in their car, listening to news from the radio. It brought the news that the last-ditch effort to save the Earth from the collision with the mountainous asteroid called "Matilda" had failed. The world would come into an inescapable end in three weeks. Without a word, Linda fled from the car. Back to their apartment, Dodge met his housekeeper Elsa, but no sight of Linda.
Next day, life became changing. Fewer people came back to work. Dodge also realized his wife had left him. A few days went by, people behaved more differently. One morning, as he was about to leave his parked car, he was startled by the loud noise from the impact of a falling human body onto his windshield window. Soon, more hard changes came.
In one evening, he found his young neighboor Penny leaning against the window next to emergency stairwell. Penny just had a quarrel with her self-centred boyfriend and roommate. After a brief introduction, Penny was allowed to spent a night on the sofa of Dodge's living room. When Penny returned to her apartment, she gave Dodge a pile of misdirected mails; before Dodge left, she inadvertently told on her meetings with Dodge's roommate and her boyfriend. Dodge now understood why Linda suddenly left him.
In the night, he went outside to buy a bottle of window cleaner for Elsa. Upset by the knowledge of the infidelity of his wife, he tried to kill himself by gulping some of the $8 bottle of cleaner. He lay motionless in a city park overnight. He did not die, but woke up to discover an abandoned dog tethering to his feet and a note with only one word - "Sorry."
After escaping from a violent riot, Dodge led Penny and the dog to a new course. He wanted to reunion with his lost high school sweetheart Olivia. On the road, he offered Penny help to find a plane to fly her to see her parents if she helped him. Later, upon fleeing from an orgy at a highway restaurant, they succumbed to the temporary desire at the moment. After some tortuous twists, he came arrived at Olivia's house. He went in alone, but went out quickly - alone. No reasons was given, though he almost ran the car into a line of people near a beach.
At last, he drove Penny to the country house of his estranged father, Frank. After a short evening, he lifted a sleepy Penny into the cockpit of Frank's small airplane and bade final farewell to Frank and Penny. Back in his old apartment, he found Elsa still working there. He granted Elsa permission to return to work again next Thursday, nevertheless he soon heard from the final TV news report that the end of the world would arrive earlier, in hours and not in days. In the night, the dog alerted Dodge to the presence of someone behind the door. It was Penny, who made Frank to turn the plane around and had now returned to find Dodge. So, this ill-matched pair finally found their love of the life to face the oblivion together.
[
Top
|
Bottom
]
Cast
Steve Carell
as Dodge Petersen
Keira Knightley
as Penny, Penelope Lockhart
Martin Sheen
as Frank, Dodge's father
Connie Britton as Diane, wife of Dodge's friend
Adam Brody as Owen, Penny's boyfriend
Derek Luke as Speck, Penny's old boyfriend
Tonita Castro as Elsa, housekeeper
Nancy Carell as Linda, wife of Dodge
Information
Directed & written by Lorene Scarfaria
Produced by Steve Golin, Joy Gorman, Loren Scarfaria and others
Filmed in California, May 2011
Released by Focus Features
Released in 2012
Running Time: 101 min
Data
Rotten Tomatoes: 55% ranking from critics
Budget: US$10 million , estimate
World Box Office: US$9.6 million
US Box Office: US$6.6 million