25 November 2008
Whale Rider
Genre: Drama. Year: 2003. Country: New Zealand.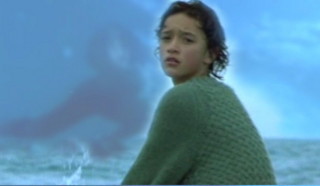 The 2003 New Zealand movie was nominated for three Oscars, other nominations and other awards.
Background
A Maori legend tells about the ancestor of the Whangara people on the east North Cape of North Island of New Zealand. One day their ancestor, named Paikea, took a fishing trip with others to the ocean. His seafaring canoe capsized. He called out to the guardians of the sea to save him, and a whale was sent to carry him on the back to the shores of Whangara.

Outline
The story is about an 11-year old girl, Pi, in Whangara; she is the granddaughter of the chief of the Whangara people. She was born just a few minutes before her twin brother, who died in a difficult birth; her mother also died. After this tragedy, her heart-broken father moved to Germany and took up an artist career there, but Pai stayed in Whangara with her grandparents.
Chief Koro (Rawin) was seeking for an heir to succeed as a leader for the patriarchal tribe. According to the traditions, the heir was always male and needs to train for the role and takes a test to show his worthiness. Growing up, Pai (Keisha Castle) became aware of her destiny as the new chief of her people. Nevertheless, her grandfather was obstinate to follow the tradition to pick a male leader. In the ensuing conflicts, Koro was angered by the intrusion and interference of Pai in the training. In a dramatic closing episode, a school of whales beached themselves on the shores of Whangara. Koro led the tribe to mount a rescue of the whales by towing the mother whale into the water. The rescue failed. As Koro and the others sadly walked back home for a rest, behind their backs Pai climbed on the back of the mother whale. She called and successfully urged the whale to swim back to the water. Suddenly, her uncle and her grandmother found the mother whale gone and Pai as well. Seeing the silhouette of Pai on the whale back in the ocean, he finally realized his mistake, though Pai was about to go deep down into the seas.
The inspiring acting by Keisha and Rawiri and the supporting cast is a very convincing performance. The straightforward, effective editing and the pleasant seashore cinematography make the movie very suitable and entertaining for children and family.
[
Top
|
Bottom
]
Cast
Keisha Castle-Hughes as Paikea
Rawiri Paratene as Koro
Vicky Haughton as Nanny Flowers
Cliff Curtis as Porourangi
Grant Roa as Uncle Rawiri
Mana Taumaunu as Hemi
Rachel House as Shilo
Taungaroa Emile as Willie
Tammy Davis as Dog
Mabel Wharekawa as Maka (as MabelWharekawa-Burt)
Rawinia Clarke as Miro
Tahei Simpson as Miss Parata
Roi Taimana as Hemi's Dad
Elizabeth Skeen as Rehua
Information
Director: Niki Caro Writers : Witi Ihimaera (novel) and Niki Caro (screenplay)
Release: 2003 Country: New Zealand
Run time: 101 minutes
&nbsp