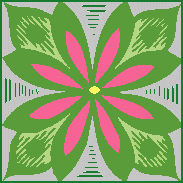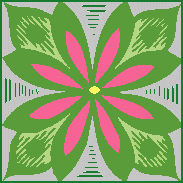 Sissi - Perspectives

---
---
Gold Prices in 2010
Update: 8 December 2010
In a December 2 conference, Chairman of the Shanghai Gold Exchange, Mr. Shen Xiangrong, said China has imported 209 metric tons of gold in the first ten months this year, 4.6 times the yearly import of the 45 tons for 2009. The total gold demand rose 462 tons in 2009, up from about 200 tons a decade ago, in comparison of the 612 tons in India (India imported 559 tons in 2009). The exchange traded 5,014.5 tons of gold, a 43.03% increase from 2009, in the first 10 months. For the same period, it also traded about 400 thousand tons of silver, a 290% increase.

On December 7, the London gold spot price reached US$1,420 an ounce, and now scaled down to about 1,381 dollars at the writing of this update.

Update: 2 December 2010
The gold price reached briefly above US$1,400 level in late October, but has settled to around US$1,350 an ounce for weeks. Xia Bin, an academic member of the People's of China's Monetary Policy Committee, recently said in an interview that the United States could sell some of its gold reserves. In the November 26th issue of The People's Daily, Mr. Xia suggested that if the US Government wanted to tackle its trade balance and deficit problems: In the long run, the United States should explore new sectors for economic growth; in the short term, he believes there might be three quick solutions: 1. Cut defense expenditures, 2. Utilize the 8-tonne gold reserves, and 3. Loose the restriction on technology exports.

Xia did not mention whether China might buy some of US gold. The views of some American analysts are that his interview just reflects China's objection to the new US Quantitative Easing monetary policy (QE2). However, Xia's view might lead to the speculation that other central banks might increase their gold reserve or at least halt any future sale to protect against possible inflation and the depreciation of the dollar. For investors, this means that gold might be the safe haven for the coming "currency war" between the export rich countries and the deficit poor countries. The following lists a comparison of gold reserves of countries/organizations:

 

                Gold in Tonnes & Percentages in Foreign Reserves

             Country        Percentage     2010-Sep | 2009-Mar     2007
             ---------------------------------------|------------------
             USA               72.1%       8,133.5  |  8,133      8,133
             Germany           67.4%       3,407.7  |  3,413      3,417
             Italy             66.2%       2,451.8  |  2,452      2,453
             France            65.7%       2,435.4  |  2,487      2,622
             Netherlands       55.8%         612.5  |    613        624
             ECB               25.8%         501.4  |    537        604
             Switzerland       15.1%       1,040.1  |  1,040      1,166
             India              7.4%         557.7  |    358          -
             Russia             5.7%         726.0  |      -          -
             Taiwan             4.1%         423.6  |      -          -
             Japan              2.7%         765.2  |    765        765
             China              1.5%       1,054.1  |  1,054        600
             IMF                  -        2,807.0  |   3,217         -
             -----------------------------------------------------------
             (Sources: World Gold Council, Wikipedia, Ming Pao) 

---
24 April 2010
After the sale of 200 tonnes of gold to India by the Internal Monetary Fund (IMF) in November 2009, the gold price peaked last December above US$1,200 but settled around between $1,100 and $1,160 in the first four months of 2010. The IMF is still looking for buyers for the rest of the 403 tonnes allocated for sale.

With the steady and slow global recovery, the US dollar is gaining some strength and the inflation is basically in check. In view of these, some bankers in Canada think the gold price may be declining later this year. Also, some Chinese analysts say gold may fall to $1,000 in this second quarter and rally this Fall. According to Liu Xu, a senior analyst at China International Futures, the consumers in India would start buying gold jewellery for weddings from September to the end of the year while Chinese consumers might buy gold for the New Year.

China may overtake India as the largest gold consumer in a few years. According to a report released by the World Gold Council, Chinese gold consumption has increased an average of 13% a year for the last five years and reached 462 tonnes (11% global demand) in 2009; their demand will likely double within 10 years.

The People's Bank of China holds 1.6% of its US$2.4 trillion reserves in gold. Some outsiders think China should increase its gold holdings in the light of the depreciation of the US dollar and the fluctuation of other currencies. However, Chinese officials have not shown any indications about their intentions or plans. Being the biggest gold producer, China may now not be in a rush to buy gold, although one would think China might buy some gold when the price is right.

All in all, most analysts are still optimistic about the long-term yields of gold.
Sources: XinHua, March 29, 2010; China Daily, March 25 2010; others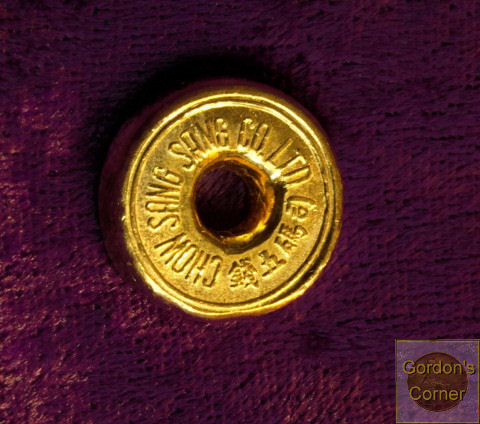 In the old days, the mother of a Chinese bride would pass some valuables
to her daughter as "dowry" before the marriage. The half-tael ingot above
is in the shape of Chinese traditional coins and was manufactured and
sold by Chow Sang Sang Company Ltd.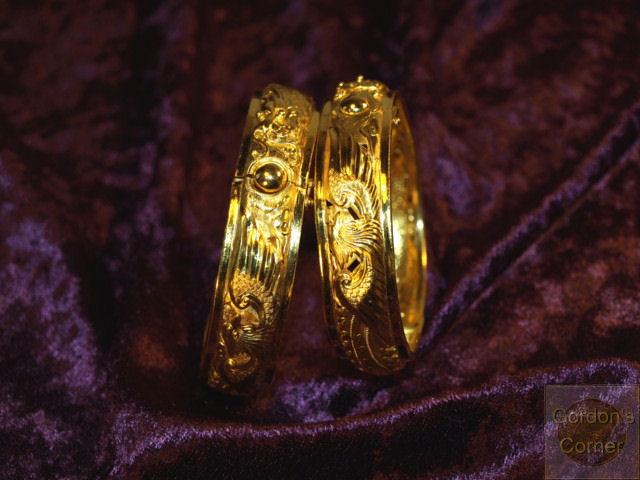 This pair of gold bracelets in dragon and phoenix relief is used
in Hong Kong traditional wedding where the groom's mother
would usually put on the wrists of the bride.



3 May 2010
Notes:
1. Chow Sang Sang Jewellery Co. Ltd was established in Hong Kong in 1937. It is the largest jewellery company in Hong Kong and has many shops in Hong Kong, China, Taiwan and other countries. Besides manufacturing and selling jewelleries, it also sells gold wholesale. (www.chowsangsang.com)

2. The possession and sale of gold had been under strict laws in the Unites States since 1933. In 1975, President Nixon lifted the gold standard off the dollar and practically abolished these laws. On the other hand, after the communists took over China in 1949, all personal bourgeois properties were almost confiscated. However, Chinese citizens were again given this freedom to buy and own gold in 2002.

Custom Search
[Top] [ Return to previous page ]
---
© sissi.gordoncorner.com All Rights Reserved