Catcus Leaves or Pads of Nopal Cactus
(Nopales, Prickly Pear Cactus Pads)


The green part of Nopal Cactus or Prickly Pear Cactus has been eaten as a vegetable in Latin America for centuries. It is rich in antioxidant Vitamins A and C and carries many minerals - calcium, magnesium, sodium, potassium and phosphorous. It has a positive effect to lower blood sugar levels and cholesterol, and is thought to decrease the risk of diabetes and cardiovascular problems.

For someone first trying on, Nopal pad has a slight tart flavour not dissimilar to sauerkraut, a crisp and slightly slimy texture of okras, and an olive green colour of cooked green bean. It can be pan fried, mixed in salads, or used as filling for omelettes.


Preparation
Choose young tender pads of a hand size (about 20 cm/8" long, 12.5cm/5" wide, 1 cm/3/8" thick).
First, use a long paring knife or a pair of scissors to remove the spines and nubs on the pads.
Then, wrap the bottom end with a heavy cloth to hold it.
Run the knife down along the flat sides of the pad, almost in the manner of scaling a fish.
It is a good idea to place the pad flat on a cutting board
and first trim around the edge to remove the many small spines there.
Slice off the bottom, noting that a couple of spines might be hiding there.
After rinsing, the preparation is done - a very easy task.
The pads can be cut into slices, lengthwise, across or cut into dices.
The prepared pads can be boiled slightly first or used directly.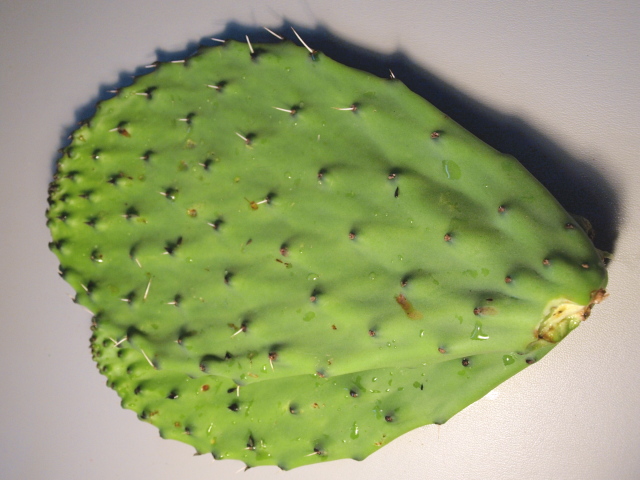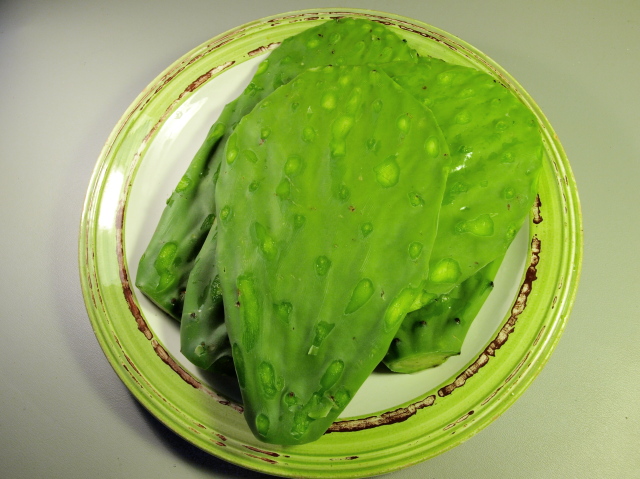 Pan Fried Cactus
Here, an appetizing dish is a pan fried reciple.
2 nopal pads, cut to 1 cm (3/8") slices, very slightly boiled
1 small tomato, cut
2 small onions, peeled & sliced
3 medium-size garlic cloves, coarsely chopped
3-4 tbsp olive oil or vegetable oil
1.5 tbsp sugar
1/2 tsp salt
1/4 cup water
optional:
a few leaves of leaf lettuce and radicchio
sprinkles of fine couscous and white sesame seeds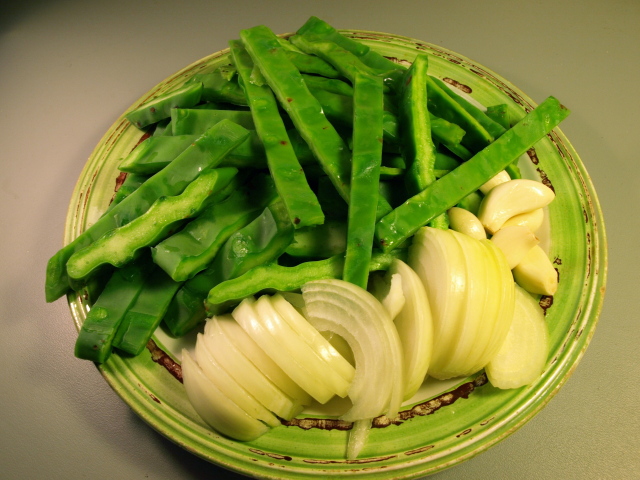 Steps
1. Boil 1 cup of water in a large pan, drop the nopal in and cook for about 1 minute.
2. Pour out the nopal quickly, and drain.
3. Wash the pan. Heat oil in the pan at medium heat.
4. Put the garlic in, then onions.
5. When the onions slightly cooked, add the nopal in the pan.
6. Mix in the tomato, salt, sugar and water.
7. Stir and simmer for a few minutes, or when the ingredients done.
8. The nopal would be now turned into olive green.
9. Serve and garnish with lettuce and sprinkles of couscous and sesame seeds, and lettuce.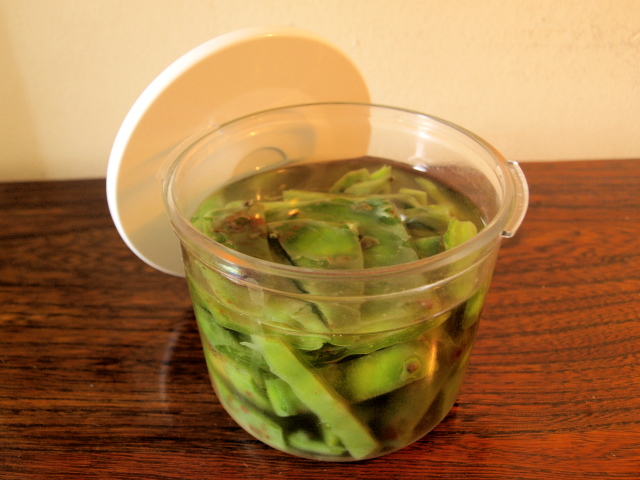 Drink
The nopal can be used to make a simple drink. Just slice the prepared nopal, put them in a jar and add fresh water to put in the refrigerator overnight. The next day the drink will be ready; the slimy drink has a very slightly sour taste with a hint of salt. The jar can be refilled with clear water and refrigated again; the procedure can be repeated for a few days.
Photos of Other Recipes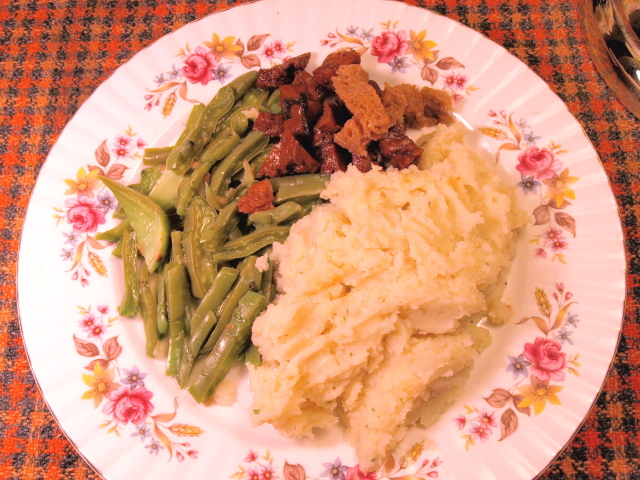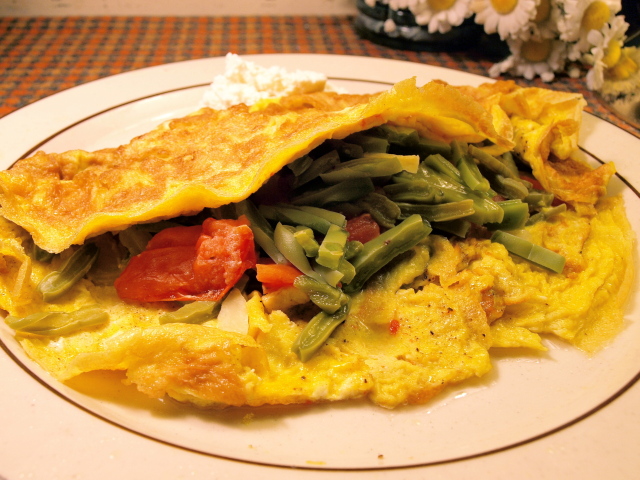 Left: Nopal as salad vegetable with mash potato & soya bits Right: As filling with tomato and onion in omelette