DRINKS
Medicinal Drinks
The rosehip (also called rose hip, rose haw or rose hep) is the fruit of the rose plant after the flowers blossom and die. The rosehips are small and berry-sized, often red to orange of colour. They are edible and of slighty tart taste, and can be made jam or herbal tea. Fresh rosehip has a high source of vitamin C and is traditionally used to treat colds and stomach disorders. They are also thought to help the immune system, the arthitis and the heart. They are generally safe to eat if taken appropriately, but might cause nausea, stomach pain, and others.
The tea can use fresh or dried rosehips. Here, a handful of fresh rosehips (about 1/4 cup) is boiled in a cup (250 ml) of water for 10 to 15 minutes. After the liquid is strained, it makes 2 servings of small tea cups.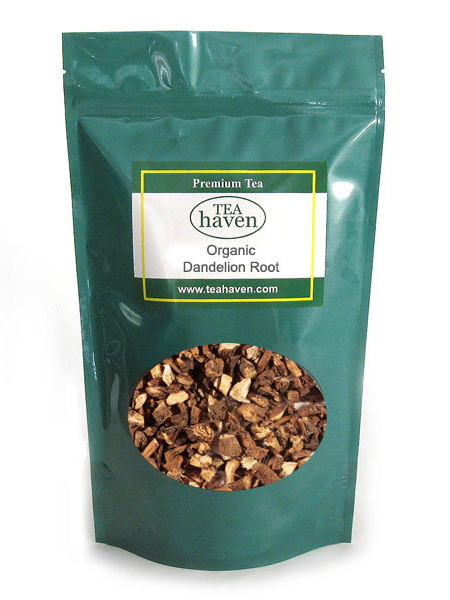 Dandelion is often considered a weed, but the whole plant can be digested - the fleshy above ground part as a vegetable and the roots as a tea. The dandelion roots contain a high amount of potassium and othe minerals. Dried or roasted dandelion roots of slightly bitter taste can make a herbal tea. The tea is generally safe and is said to have many benefits to a human body.
Two tablespoons of dried roots can be boiled in 2 cups (1 L) of water for 15 to 20 minutes.
---
Fresh Aloe Vera Drink
---
A Non-carbonated Drink for Hot Weather
The drink is a descendant of Elizabethan medicinal waters - cooling beverages referred to herb and spice mixtures used as anti-inflammatory digestive remedies. The recipe was originally published in The House Servant's Directory, written by Robert Roberts, 1827 edition (Gore Place Society, Waltham, Massachusetts, 1977).

"Boil one gallon of water, put it into a gallon demijohn, set this before the fire, then put into twelve cloves, two ounces of whole cinnamon, then stop up your bottle and put it in a pint into two quarts of water, with one quarter of a pound of sugar, cool it in ice before you serve it, and it is a most wholesome and delicious drink as you can take in hot weather."

Note: A demijohn is a narrow-necked bottle enclosed in basketwork and holding from about 5 to 45 litres. The bottle is used for storing and transporting liquids.

The formula:



	1L/4 cups         water
	12-24 pcs         cloves   
	4-6  sticks       cinnamon
	1 kg/4 cups       sugar 
	1 teabag          (optional)
	3 slices          fresh or dried orange rinds (optional)    
	3 slices          dried licorice (optional)



Boil water in a deep pot. Put cloves, cinnamon, and other ingredients (except the teabag) in the boiling water. Simmer the mixture at a high heat for about 20 minutes. Add sugar to dissolve and turn off the heat. Cover the pot and allow it to cool. After this is done, use a strainer with a long handle to fish out the orange peels and the teabag and any solid ingredients you want to take out. Store the liquid concentrate in a bottle in the refrigerator.

To serve, put 250 ml(1 cup) of concentrate in 500 ml (1 quart) of cold or iced water. Add ice cubes if desired; also, varying the ratio of liquid and water can be suited to tastes. Makes 8 servings.

This beverage is non-carbonated and non-alcoholic. A little (say, 5 ml/1 tsp) of cognac, whisky or Southern Comfort liquor may add some punch to one glass of the drink.


---
Nature Tea Recipe
Gather some fresh needles of a pine or spruce conifer. Rinse them with cold water to wash off any dirt. Crush or chop the needles into fine bits by hand or by a blender. Put them in a tea pot and pour boiling water over them. Brew it the way you normally do with dry tea leaves. Serve it hot without sugar or milk.

The needles of pine conifer are rich in vitamin A, and supply five times as much vitamin C as an equal amount of lemons. The needles also contain shikimic acid - the main ingredient of the drug Tamiflu (Oseltamivir) that treats seasonal influenza and might be the potential cure of the Bird Flu.

The tea is similar to the old medicines of the native peoples in eastern Canada, who have acquired a knowledge of herbal medicines since 1500. For more information, the Native Websites might provide the cautions and the use of their traditional medicines.
Some Old Indian Herbal Formulas
| Plant | Part Used | Ailments Treated |
| --- | --- | --- |
| Spruce | Twigs and cones | For vitamin deficiency |
| White pine | Needles | Tea for prevent scurvy, relieve cough and colds |
| Wintergreen | Leaves and berries | Tea or astringent, diuretic, stimulant, contains a compound pain killer, reduce, and fever. Poultice for rheumatic pain. Similar to aspirin. |
Top
|
Middle
|
Bottom
---
VEGETARIAN RECIPES
| Cactus Leaves/Nopal Pads | Kimchi | Kimchi Sushi |
| --- | --- | --- |
| | | |
| Shepherd's Pie | Steamed Cornbread/Hemp Cornbread | Green Banana |
| | | |
| Cassava Cake | Potato Juice & Pancake | Potato Dumplings/th> |
| | | |
---
Falafel Patties
Falafel is a popular Middle Eastern fast food, consisting of a mix of ground fava beans, chick peas, corn meal, and flour. It can be used as filling in a pita sandwich or be eaten alone. Here, the Falafel patties are shown to be served with an Oriental Tamarind dip/sauce.
397 g (14 oz) Falafel mix
500 ml (2 cups) water
some chopped onions [optional]

31 g (1 oz) dried Tamarind
125 ml (1/2 cup) water
1 tsp corn starch
Sugar to taste
1. Add water to Falafel mix to get a uniform dough texture.
2. Let stand for an hour.
3. Make patties about 2.5 cm (1 inch) thick.
4. Heat canola oil in a frying pan at high-medium temperature.
5. Fry the patties to golden brown and crispy.
[To avoid the patties to be too greasy, do not use too much oil. A quick way to economize oil, spray some water and cover the pan with a lid at medium temperature in the middle of frying process. Remove the lid and continue to brown the patties at the end.]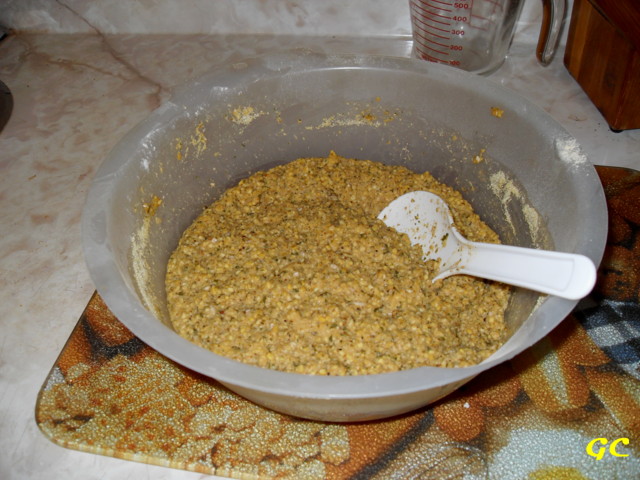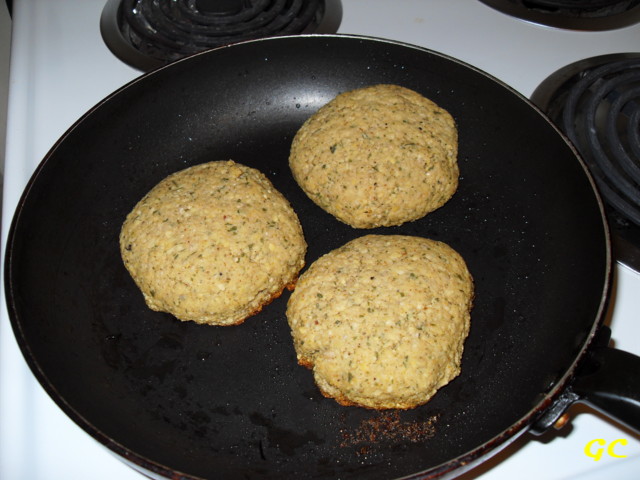 Tamarind Dip
1. Boil water with Tamarind
2. Add sugar
3. Mix corn starch and water and put the mixture in the Tamarind sauce/dip.
4. Remove from heat and serve.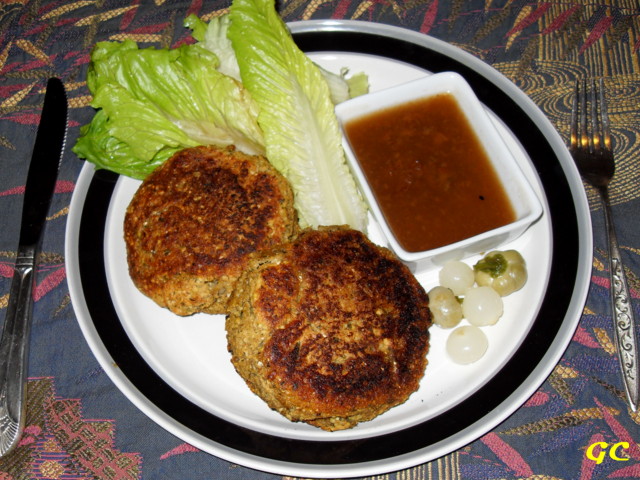 Home Made Falafel Mix Recipe
1 cup dried chickpeas or 16 oz can of chickpeas
2 tbsp wheat flour
1/4 cup corn meal [optional]
1 large onion, chopped
2 cloves of garlic, chopped
3 tbsp of fresh parsley, chopped
1 tsp coriander
1 tsp cumin
Salt
Pepper
Top
|
Middle
|
Bottom
---
A quick snack of King Oyster Mushroom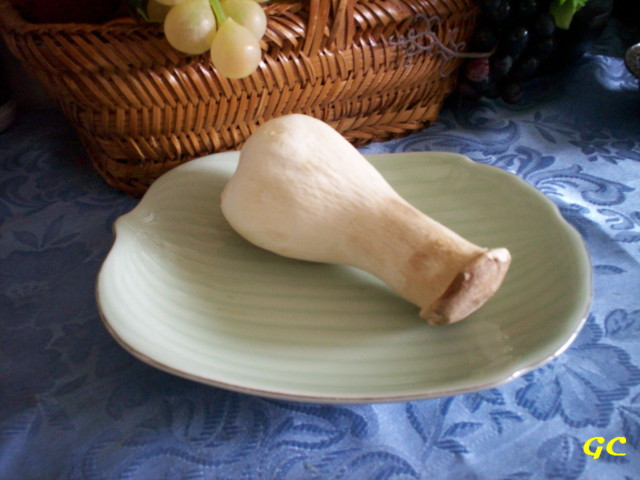 One stalk (10 cm or 4 inch) of King Oyster Mushroom
Vegetable or Canola oil
Veggie seasonings, such as "Mrs. Dash"
Grounded black pepper (optional)

1. Cut the stalk into 0.5 cm (3/8 in) slices.
2. Heat some cooking oil on a pan over high medium heat.
3. Brown the mushroom to a golden colour.
4. Toss the slices with seasonings and pepper.
5. Serve the slices hot.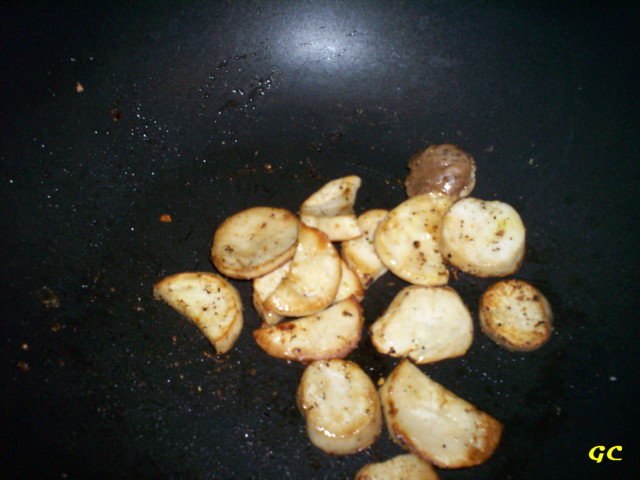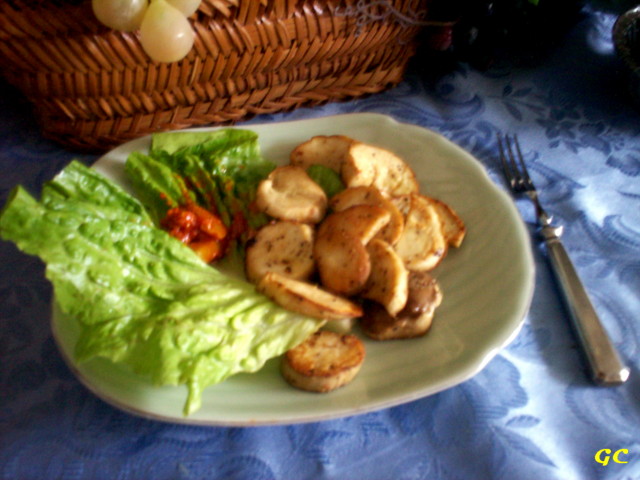 Notes - King Oyster Mushroom
The mushroom is also called King Trumpet Mushroom, scientifically "Pleurotus eryngii" and originally from the Mediterranean region. In 1993, a new cultivated technique was introduced into Japan and has now made the mushroom popular in other oriental countries. The mushroom has a thick, white stem and a small tan-brown cap; the stem is very meaty and springy like abalone. In North America, it has been expensive at $20 a pound but now goes to about $5 a pound.
---
Sauté Portobello Mushroom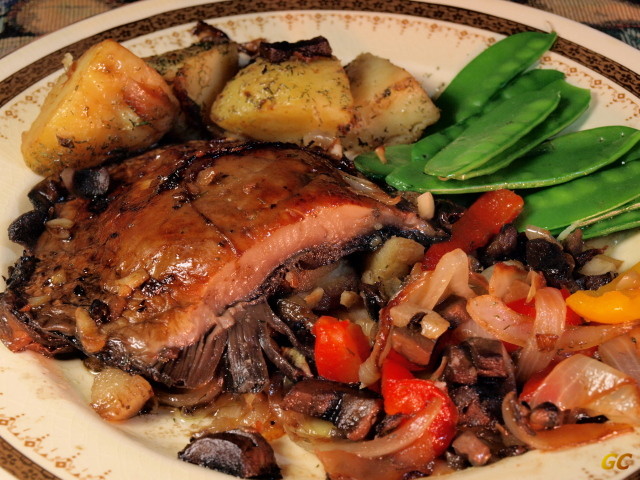 Top
|
Middle
|
Bottom
---
Quick Pan-fried Tofu Sandwich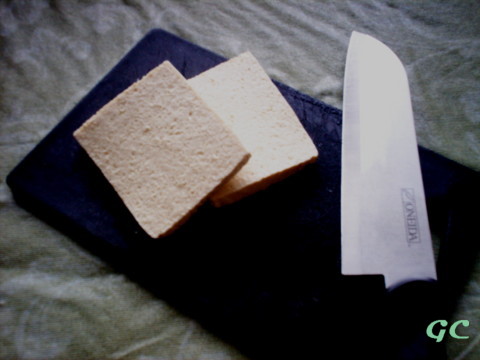 Extra Firm Tofu (a 350g package, 7x13x4.5cm, made by Sunrise, Vancouver, B.C., Canada)
Regular Soy Sauce
or Dark Soy Sauce
or Barbecue Sauce

Options: lettuce, mayonnaise, pickles, etc.
Preparation Time: Less than 15 minutes.
1. Cut the Tofu into slices of about 1/4 inch (0.5cm) thickness.
2. Pour oil in a pan and fry the Tofu over medium-high heat.
3. When the Tofu turns lightly brown, spread the soy sauce or barbecue sauce on the Tofu.
4. After one side is brown, turn over the Tofu and do the same.
5. Place the Tofu on the bread. Serve with lettuce and mayonnaise.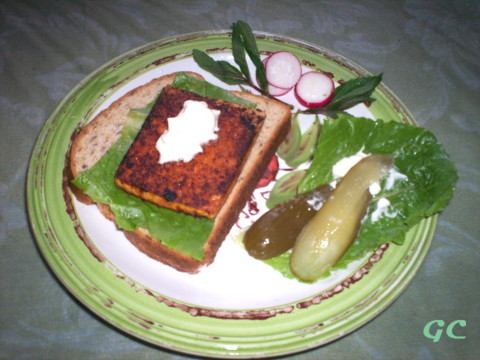 Left: Tofu with soy sauce (left) & barbecue sauce (right) Right: Sandwich of Tofu with barbecue sauce
Top
|
Middle
|
Bottom
---
Pan-fried Shanghai's Gluten
2 pcs/200g . . . . . . Shanghai's gluten sausage (from Chinese Food Store that sells frozen food)
2 small onions 3 tbsp/45 ml . . . . . vegetable oil
3 tbsp/12 ml . . . . . soy sauce
salt and pepper
cooked/drained peas, carrots, and baked potato wedges (optional)
1. Cut the sausage into slices of 1/4 inch 0.5cm) thickness; alternatively cut lengthwise.
2. Pour oil in a pan and heat the pan over medium-high heat.
3. Fry the cut onions in the pan before the glutens.
4. Pour one half of the soy sauce over the slices. Turn them over and pour in the rest of the soy sauce.
5. Stir and season the slices with salt and pepper to taste.
Serve the gluten slices with cooked peas and baked potato wedges or the other side-dishes. Makes 1 serving.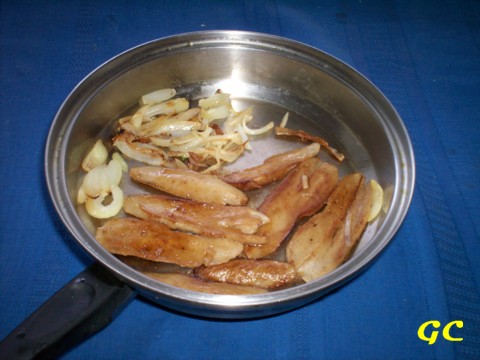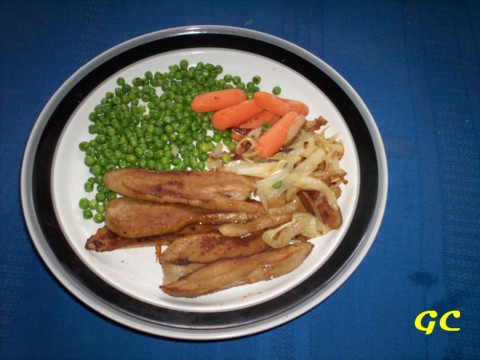 Making of Cantonese Glutens
Make a dough similar to preparing a dough for bread, except glutinous wheat flour is used. You may buy the flour in a health food store selling cereals and beans in bulk. Also, do not need to use baking soda or powder. After the dough is made, put it in a large bowl of water. Knead the dough to squeeze the starch part of the dough fabric. Wash the dough under running clear water. Repeat the kneading and washing until the milky water become clear from the dough. The remaining structure of the dough is a different type of spongy glutens.

Gluten sausage is a traditional food made by the Shanghainese for decades. The making procedure is different, but the the ingredient is mainly glutinous flour and water.
---
Creamy Pumpkin Soup
4 cups/1 L . . . . . . . water
1.5 cup/350 ml . . . pure pumpkin pulp (canned)
2 tbsp/30 ml . . . . . coconut milk powder
2 tbsp/30 ml . . . . . skim-milk powder
2-3 cloves . . . . . . . chopped garlic
1 tbsp/4 ml . . . . . . olive oil
1 cube vegetable stock
ground black pepper, salt, and sugar
parsley/croutons (optional)

Grease the bottom of a large saucepan with vegetable/olive oil. Put 2-3 cloves of chopped garlic in the saucepan. Heat the garlic to light golden brown. Pour 4 cups of water in the saucepan and add one vegetable stock cube. Stir in about 1.5 cup of canned pumpkin pulp. Boil the pumpkin over medium heat. Dissolve the coconut milk and the skim-milk powder in 2/3 cup of water. Pour the milk into the boiled pumpkin. Season with pepper, sugar and salt. Heat gently for a few minutes. Garnish with parsley or croutons. Makes 2 servings
---